Muji Launch Beauty Line with Skincare
Beauty Byte: Muji Launch Skincare
Fans of Muji's sleek minimal furnishings are in for a treat. The Japanese lifestyle brand is launching a capsule skincare collection in the U.K. at the end of this month, pooling all the favorites from its long-standing highly successful range in Japan. The new line will be available in selected stores and online from the end of this month.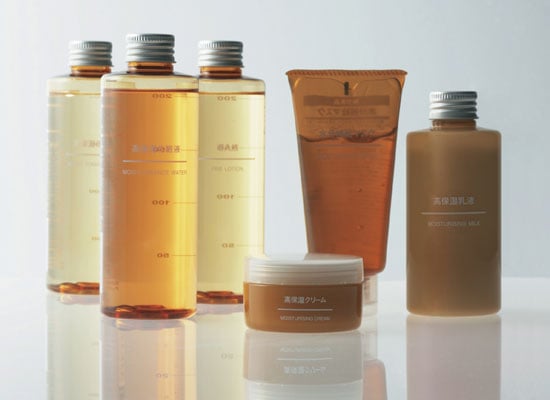 To get the details of this story, just read more.
I'm already a fan of Muji's soy scented candles (£10.95). They're fantastic value and are a great staple for burning around the house. What's more, they're packaged in recycled glass, so they're eco-friendly too.
The new skincare line is made using water sourced in the Lwate region of Japan – known for its softness and miniscule particle size, for easy absorption, combined with quality moisturising and cleansing ingredients. There's a hypo allergenic facial skincare range for sensitive skins and a 'High Moisture' range for dry skin types. The line includes cleansers, toners and moisturisers priced from £7.95 to £16.95.
So far, my favourite product is the traditional Japanese oil based cleanser. I was unsure at first about using an oil to remove makeup, but I'm quite liking it! The cleanser combines olive oil and jojoba oil and would suit sensitive skin as it's very gentle. I also like the packaging. It's not girly at all, so could easily appeal to men too.
Muji is the latest High Street chain to enter the world of beauty. In the past month both H&M and Topshop have announced new ranges. Affordable beauty rules!
Photo courtesy of Muji