Nails Inc and Georgina Goodman
Beauty Byte: Nails Inc Collaborates with Georgina Goodman
Don't you just love it when fashion and beauty come together? This Spring, the ever trendy Nails Inc, has teamed up with sassy shoe designer Georgina Goodman to create three varnishes (£10.50 each). The lovely lacquers are shiny, fun and are in the same colour sheme as three pairs of shoes from Georgina's 2009 Spring/Summer collection. The packaging on the polishes is GG inspired too — flirty and unique.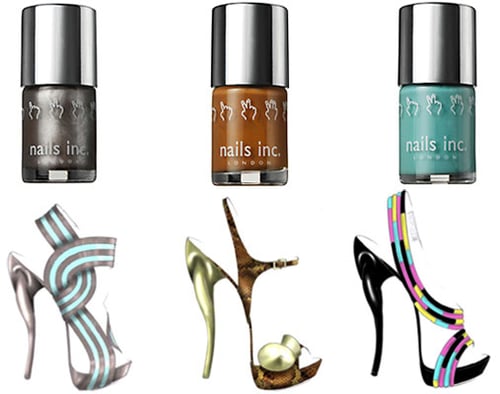 Shimmer is a pearlescent taupe shade that looks fabulous when paired with the elegant Nancy sandal.
Sunkissed is a matte, bronzey-tan colour that matches the snakeskin pattern on the ornate Nadia stiletto.
Miami is a bluish-seafoam green (true to the colour of the ocean and sunny skies) that will stop traffic when worn with the Nicole heel.
Expect to see the shoes and the polishes in stores from February — get excited!