Nails Inc London Charms
Nails Inc. Celebrates Ten Years With A Charming New Collection
This year, Nails Inc. is having it's first birthday in double digits! Creator and owner Thea Green, is commemorating the ten year anniversary of her company by adding kitchy Summery and London-inspired charms to a ten-piece limited-edition collection. Five of the colours are new for Summer (these have bikini, flower pot and beach themed charms), whilst the other five are Nails Inc. cult classics (and have a royal crown, black taxi and other souvenir-style charms).
Thea, who is now a mother of two, began Nails Inc. at the age of 23 while she was also working as an asssistant fashion editor at Tatler. She was looking to bring the quick 15 minute manicures and pedicures that New York City is so famous for, to London. A decade later, the company is comprised of 450 people with 55 outlets across the UK. All of the polishes are named after streets in London and are inspired by the style of that particular neighborhood.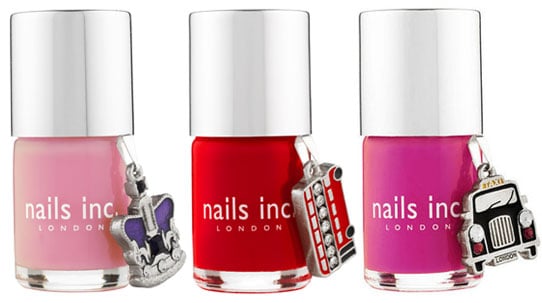 Each of the polishes sell for £15 and are available starting today through the end of June. Since they all come with a different charm, the idea is to get into the spirit if collecting them and wearing them around your neck, wrist or even attaching them to your phone!
For close up shots of the ten polishes, their charms and for a description of each of the colours, read more.
Classic Shades:
Shoreditch is a bright pink polish with a black taxi charm.
South Molton Street is a sheer medium pink. This is location of the original Nails Inc. flagship store, so it's only fitting that this polish comes with a royal crown.
Victoria is a dark, blood red that comes with a Swarovski encrusted phone box charm.
St. James is a true shiny red varnish that comes with a London bus charm.
Elizabeth Street is a pale pink polish that comes with a sparkly Union Jack charm.
New Summer 2009 Shades:
Drury Lane is a coral shade with a popsicle charm.
Fleet Street is a pale sky blue that comes with a cute bucket and spade charm.
Long Acre is a lime green polish with black and white bikini charm.
The Strand is a hot fuchsia that's paired with a flamingo charm.
Savoy Court is a deep shimmery purple with a black and silver sunglasses charm.