Nars Spring 2009 Collection
It's Here — Nars Spring 2009 Colour Collection!
I'm so excited that one of my favourite brands has just given me a sneaky peek at the 2009 Spring collection — and it was worth the wait! The new, ten-item range from Nars is full of different textures from shimmer to matte to cream. The colours are striking, different and were inspired by a sexy woman. Francois Nars says, "I wanted a big of '70's feeling, somewhere between Guy Bourdin and Chris Von Wangheim's photographs — aggressive, but very sensual and fragile at the same time."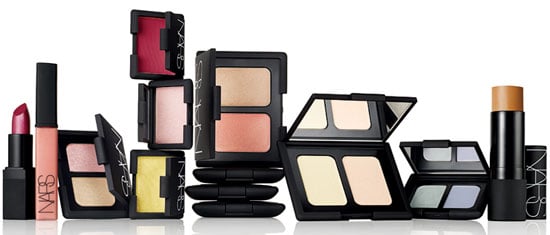 The star products include a bright, pinky-red matte eye shadow, a candy pink lip gloss and an incredible multiple in a bronzer shade. You guessed it, this baby is in a league all of its own. The campaign features model Guinevere van Seenus whom you may remember from the 2005 ads, (buh-bye Lydia Hearst) and was shot by Francois himself. The Spring '09 collection is already online and hit stores in February.
For details and prices on each of the new products, read more.
Hungry Heart Blush Duo (£27) is made from finely milled iridescent gold ivory and pink sand powder (one to highlight, one to contour) and is infused with glitter and shimmer. Nars calls it, "jewelry for the face."
Duo Concealer (£22 each) is a palette of two concealers that are available in three different colour combination options based on your skin tone. There's Vanilla/Honey (for fair complexions), Custard/Ginger(for light to medium complexions) and Praline/Toffee (for medium to dark complexions). It's fragrance-free and includes turmeric root extract and a vitamin C derivative to boost brightness and even out the skin without creasing.
Duo Eye Shadows (£23 each) in Egea (a pale, frosty olive and smoky lilac) and Hula Hula (pinky gold and hazelnut with gold glitter) are made from richly pigmented and velvety smooth, shimmery powders.
Single Eye Shadows (£15 each) in Baby Girl (dusty pink with gold flecks), Grenadines (matte garnet) and Night Sun (golden yellow). These shadows are playful and can be worn alone or layered together.
Multiple Duo (£33) in South Beach (shimmery apricot) and Orgasm (need I say more) are finally coming together to create a legendary, sun-kissed creamy blusher/highlighter combination. This is a must-have item!
Multiple Bronzer in Cap Vert (£27) is brand new to it's genre. While the multiple is typically known to highlight, contour and/or be used as a blusher, this one is a creamy, medium-toned bronzer with slightly red undertones — bravo.
Lip Gloss in Sweet Revenge (£17) is a sheer, sweet pink grapefruit, high-shine gloss.
Lipstick in Shrinagar (£17) is a shimmery and sheer metallic purple-pink shade designed to create berry shiny lips.