Nars Spring 2010 Colour Collection is Hot, Warm and Cold
New from Nars is it's 2010 Spring Collection that launched a few weeks ago in-store and online. I absolutely love the mix of the cool lilac and warm brown powder shadows and the shiny hot pink lip gloss paired with an electric purple nail varnish. It's contradictory, but sexy all in the same. The inspiration for the range came from Catherine Deneuve's role in the movie La Chamade. François Nars said,

"I love Catherine's makeup look in this movie. It's very sophisticated and bourgeois in a Parisian '16th Arrondissement' way. She is the perfect reference for this collection, and apropos for Spring, a time to embrace color and get noticed. Catherine's character Lucille has a confidence that is infectious, which is such an important trait. She is breathtakingly beautiful and exceptionally elegant, dressed impeccably in haute couture. She exudes inner style and outward beauty."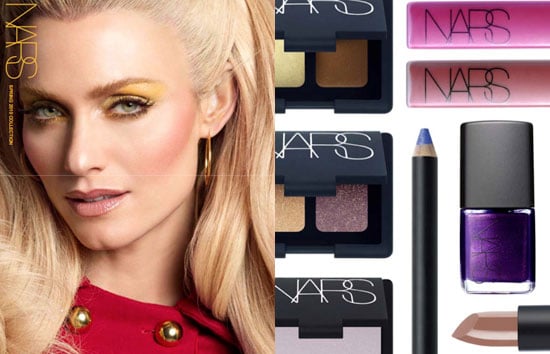 Amber Valetta is the face of this range, and was photographed by François himself who tried to recapture the edginess, sexuality and beauty of Deneuve. The textures are sheer and have a flirty Springtime essence about them. They can be worn lightly, or layered for a brighter and more dramatic effect. My personal favourites are Ophelia Lip Gloss (£17), a strawberry colour, paired with the Kuala Lumpur Duo Powder Eyeshadows (£23), a shimmery rose and berry shade to create a fun pinky face. However, the Purple Rain nail polish is also to die for.
To read a description of each of the colours in the collection and for more photos of the products, just read more.
D. Gorgeous Single Eyeshadow (£15) is the "in" colour this season. It's a dusty lilac, almost grey powder shadow in a matte formula that can be worn alone or blended with any other browns, greys, blues, pinks or purples.
Cruising Lipstick (£17) is a sheer brownish-pink colour that can be worn alone or with a lip pencil and gloss for versatility.
Easy Lover Lip Gloss (£17) is a hot pink gloss that can be worn over almost any shade of lipstick.
Ophelia Lip Gloss (£17) is a shiny strawberry gloss that looks beautiful over Cruising!
Purple Rain Nail Polish (£12.50) is a traffic-stopping metallic purple nail varnish.
Camargue Duo Cream Eyeshadow (£23) is a unique mossy and sienna-coloured duo because it is named after the hues that the sun casts hues found in the French river. Wear lightly for a more subtle effect, or layer it for a darker, sexier look.
Kuala Lumpur Duo Powder Eyeshadow (£23) is heavenly! I love this golden pink and boysonberry pair named after a Malaysian city.
Bains Douches Glitter Pencil (£19) is a flirty, medium blue glittery eye pencil infused with silver flecks. It was named after a Parisian nightclub and blends so well that it can also be used as a shadow.