Nars Summer Collection
Nars Launches Sexy Summer Range as the Brand Turns 15
Get excited because today, Selfridges's is launching a two week sneak preview of the new Nars Summer 2009 Collection inspired by Francois Nars' love of the tropics. The nine products are chic, bold and seductive. He says, "The look for Summer 2009 is sophisticated, but colorful." There are three eye shadows, two lipsticks, a lip gloss, lip liner, nail polish and an amazing bronzer that makes a great addition to cult classics like Laguna, Casino and last season's bronzing multiple.
The star product of the group is clearly the tropic eye shadow. This enchanting teal blue flecked with sexy silver is captivating and different. I'm a little shy with blue shadow, so I think I'd wear it as an accent colour in the crease or as a liner. Do you wear blue eye shadow?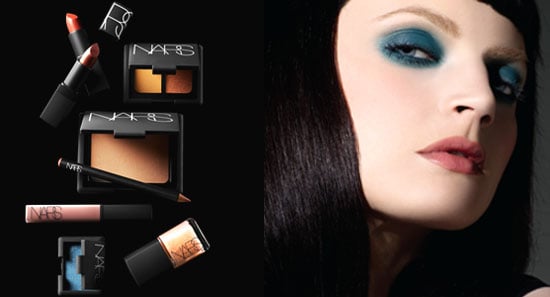 Also, to celebrate the 15th birthday of the brand and to promote the newbies, on 24th and 25th April, one of my favourite makeup artists Jane Richardson will be doing personal consultations. The costs is £10 to book, and is redeemable against purchase. I know I can't wait to pop over and say hi — do you think you will too you?
To see individual product shots from the collection, just read more.
Tropic Single Eyeshadow (£15) is an electric teal powder shadow with hints of striking silver.
Scorching Sun Duo Eyeshadow (£23) contains two powder shadows: a rich burnt yellow-orange and a darker, apricot orange.
Irresistiblement Bronzing Powder (£21) is a new, deeper terracotta take on the classic cult bronzers laguna and casino.
Falbala Lipstick (£17) is a high-shine, bronzey-rose shade named after Astrix, a French comic book heroine.
Outsider Lipstick (£17) is a deep, shimmery coral.
Belize Lipgloss (£17) is a semi-sheer pale pink infused with specs of gold.
Tonga Lip Pencil (£14) is a creamy pink amber hue.
Adelita Nail Polish (£12.50) is a sparkly, opal pink that looks gorgeous when you wear it with Belize.