Natasha Khan Makeup, Bat For Lashes Makeup, Halloween Ideas
Halloween How-To: Bring on the Funk Like Bat for Lashes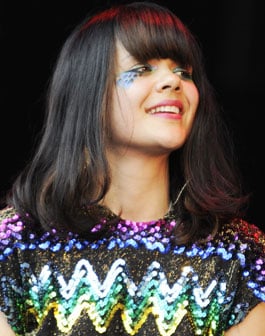 Natasha Khan, (aka Bat for Lashes) is a British singer who makes looks rock star chic look easy breezy.
Whether she's walking the red carpet wearing rainbow-striped makeup at the 2008 Brit Awards, or if she's performing in this peacock-rain drop style face paint at Glastonbury, the artist finds a way to use cosmetics as a creative outlet.
Getting her makeup look is easier than you think, if you use your imagination along with some of the products I've suggested below. So shop away and have fun playing the part of punk pop star on Halloween night!