Natural DIY Desi Face Masks
3 Natural DIY Face Masks That Desi Girls Swear by For Glowing Skin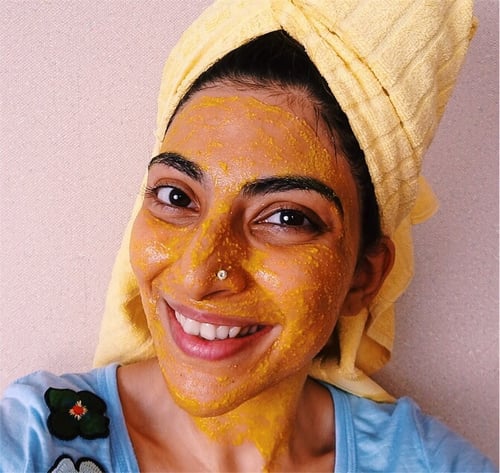 Although these ingredients may seem like items from a desi Grandma's recipe book, nothing gives you the glow like natural remedies from the comfort of your kitchen. I have been using them for years, and I cannot thank enough the generations of desi women before me who have been creative enough to find solutions to their skin problems within their kitchens. Whatever your skin concerns, these DIY face masks are the simplest way to getting clearer, more radiant skin.
Take a look at some of my favourite picks. You might find something that really works for you.
Gram Flour, Turmeric, and Milk Mask
Even though you might see several versions of this one, I find that the most basic version has been the most effective for a lot of people. This mask has to be your go-to for that instant glow. It works well to deep cleanse the skin and to remove the dead skin off of your face. Although this mask is excellent for dry to normal skin, you can replace the milk with curd for oily skin.
Simply take two tablespoons of gram flour and add half a teaspoon of turmeric powder to the same. Add the required amount of milk to make it into a paste. Apply the mask onto a clean face, and leave it on until it dries out. Wash it off with cold water to get bright, radiant skin.
Tomato Paste Mask
Tomato works beautifully to soak up the extra oil on the skin, and it is superrich in antioxidants, as well. To DIY, take a ripe tomato, and make a fine paste out of it in your blender. Make sure the paste is thick enough to be applied onto your face. Clean your face with warm water to open up the pores, and leave the mask on for about 15 to 20 minutes. Wash off the mask with cold water to seal the pores. Yay for gorgeous, glowing skin!
Egg and Honey Face Pack
This one is perfect for those Winter mornings when your skin feels dry and patchy. Simply whip up a mixture of one egg yolk and a teaspoon of honey, and apply it to a clean face. Leave it on for about 15 minutes before washing it off. Did you know eggs can be used in several ways to get clear skin?
So, there you go. Try out these packs over a period of time to see proper results. Wishing you all a healthy and glowing skin!
Image Source: Courtesy of Urvashi Kumar