Was Naya Rivera Right? Survey Says Women Are Dirtier Than Men
Source: Getty / Jon Kopaloff
Several weeks ago, Naya Rivera incited controversy due to racial remarks on showering habits. She had admitted on The View that she doesn't shower every day. "I think that white people shower a lot more than ethnics," Rivera said. "I feel like showering more than once a day or every day is such a white people thing." Naya sourced her own Caucasian husband, Ryan Dorsey, who apparently showers multiple times a day, as an example. Meanwhile, she likes to stick to a more lax bathing schedule. "So the study says, a dermatologist says you are only supposed to shower once or twice every three days, so I'm right on the mark," Naya explained. However, she revisited The View to expand on her remarks. "I had an opinion on [the study] that was supposed to be a joke. Apparently, it didn't go over so well. . . . I apologise if anyone was offended," Naya said. She wrapped up her apology admitting that she was excited about the conversation her comments had sparked.
As a black woman, I have to say that I shower every day (except on the odd weekend when I'm binge-watching Orange Is the New Black for 48 hours solid). I don't believe daily hygiene habits differ among specific cultures. However, Naya has a point. Did our great-grandparents submerge themselves in hot water every day? No. Then again, they probably weren't participating in Spin classes every morning, either, or constantly trying to dodge the latest Ebola epidemic. In Naya's defence, there is research that shows skipping showers isn't necessarily bad hygiene, and it's surely better for the environment.
But we asked cosmetic dermatologist Dr. Jeanine Downie to weigh in on the topic, and here's the truth — your skin can only benefit from rinsing regularly. "Bathing every day is essential to get oils, dirt, and bacteria off of your body," she said. "If your legs are dry, maybe you don't need to scrub your knees every day, but you certainly need to wash under your arms, your groin, and other places where you tend to perspire." In addition, Downie listed a host of skin conditions that could become aggravated without daily showering, like psoriasis and seborrheic dermatitis.
Finally, Reddit user anthonyd3ca is settling the bathing debate by taking race out of the equation and focusing on gender instead. His study proves that women are the biggest offenders when it comes to inconsistent bathing, with most women surveyed (a slim 21.4 percent) stating they usually shower an average of three times a week, while 40.5 percent of men reported showering seven times a week. But to be fair, the average guy probably isn't concerned with the effect consistent hot water has on his hair.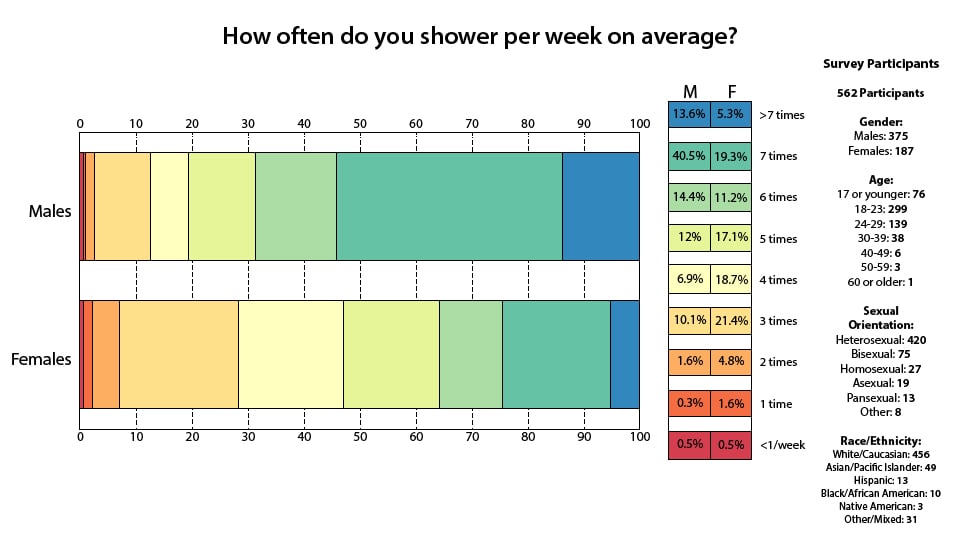 Source: Reddit user anthonyd3ca
The verdict: you should always wash your hands after using the restroom, before eating, and during flu season. However, if you only have time to sponge off the important places after a workout, it's not the end of the world. At the very least, you'll be able to pull off the second-day hair look Naya is so fond of . . .