Neom Luxury Organics
Product Review: Neom Luxury Organic Candles
Over the holiday, I was shopping with a friend at a gorgeous smelling London boutique. It's funny to describe a store that way, but second to the great clothes and accessories was an overwhelming warm scent. As it turns out, they placed a Neom Luxury Organics Candle in each corner of the room to create a relaxing atmosphere.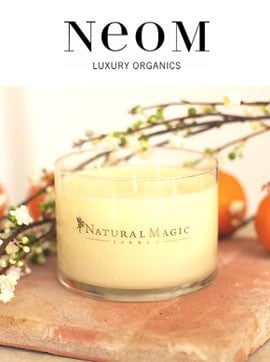 What makes these candles so unique is that they're all natural and they double as a holistic body treatment. As they burn, the pure essential oils in the (vegetable) wax melt, and can be applied directly to the skin — how cool is that!
There are ten three-wick candles with names like Energise, Invigorate and Tranquility designed to help relax, de-stress and enhance moods. They last up to 55 hours and cost £35 each.
My favourite is Pure Indulgence. It contains Brazilian orange blossom, (aka neroli) to lift the spirit and calm the body. The only drawback is that the oil gets extremely hot in the votive, so you have to be careful not to burn yourself.
For a description of the additional nine available scents, read more.
Revitalise is an invigorating scent that keeps your mind feeling sharp. It contains Thai lemongrass, mint and rosemary.
Relax is a soothing scent made from French lavender, geranium and juniper.
Complete Bliss is a happiness in a glass jar. Made from Moroccan blush roses, it's scent is soft and sexy and it also helps with headaches and hay-fever.
Real Luxury is a floral, spicy and woody scent that pampers the soul. It's a blend of Brazilian rosewood, lavender, jasmine.
Rebalance can be likened to taking Prozac! It helps de-stress, and melt away all anxieties. It's enhanced with mandarin, cinnamon and clove.
Refresh is energy boosting and it has sore throat soothing properties. Made from Sicilian lemon and fresh basil, this unisex scent makes you feel recharged.
Restore is made with jasmine, ginger and sandalwood. It has a classic elegance that helps ease nausea and mental fatigue.
Tranquillity is recommended for those special moments between parent and baby. It's extremely calming and is made with sweet basil, English lavender and jasmine. Fun fact, it also won Cosmopolitan's beauty award for best candle.
Invigorate is the freshest and cleanest of the bunch, and no wonder since it's made with grapefruit and bergamot.