New Product Alert: Honore des Pres I Love Carottes
The cool Parisian girls can't get enough of Honore des Pres fragrances, and now us British chicks can get a chance to enjoy them too! This month the fragrances debuted in Space NK stores nationwide and already fans can't get enough. Honore des Pres is a cult Pars-based perfume company that specialises in 100 natural scents. I Love Carottes (£69) is the most famous from the collection. It's designed to be worn by both men and women and is pretty different, too, made with notes of raw carrot tops, orange juice, iris butter and bourbon vanilla. Check it out below!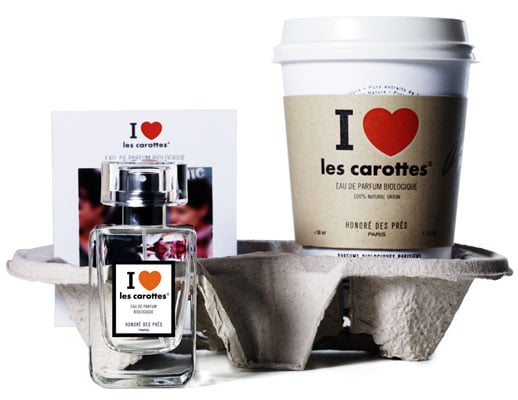 My favourite thing about the fragrance is how it's presented. I love the cute coffee cup and leaflet that you get with it, complete with 'To Go' label. So cool! It's no wonder the design won an accolade at the 2010 Wallpaper* Magazine awards. The scent is part of the company's New York Collection by perfumer Olivia Giacobetti, and also features two other scents: Love Coco and Vamp in NY, both of which are divine.
Having smelled I Love Carottes in store, I am already hooked. It's so different to everything out there and has a real sense of chic to it. Who'd have thought carrots would make such a chic fragrance!
Photo courtesy of Space NK