New Product Alert: John Frieda Frizz Ease Smooth Start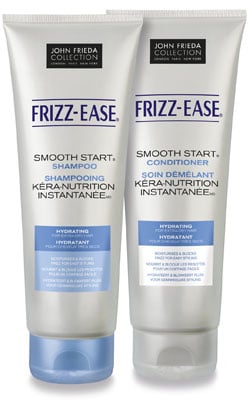 Thousands of women owe their good-hair-days to John Frieda's Frizz Ease Serum. The revolutionary product changed the landscape of haircare when it was launched back in 1992. Since then a slew of variations have been introduced to the line.
Now the collection is complete with new Frizz Ease shampoo and conditioner! Frizz Ease Smooth Start haircare (£4.79) goes on sale this month and has been specially formulated with olive oil extracts to fight frizz on all hair types and colours, without weighing it down.
I managed to get my hands on both the shampoo and conditioner, and am loving it. I have curly hair that is often prone to frizz, so it's been a godsend. My hair still has volume and a sense of lightness but is sleek and tamed at the same time.
The conditioner is definitely slightly heavier than other colour-focussed John Frieda conditioners, so may not be great for straight hair types or those with greasier hair, but it definitely worked for me. It smells great, too!
Photo courtesy of John Frieda