New Product Alert: Living Proof No Frizz Leave-In Conditioner
New Product Alert: Living Proof, No Frizz Leave-In Conditioner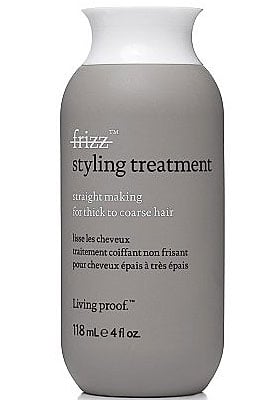 John Frieda Frizz Ease has been the ultimate frizz fighting serum for years, but it looks like there now might be a contender for its crown! Meet: Living Proof's No Frizz Leave-In Conditioner (£18), the wonder product currently spurring a tidal wave of adoration among the UK's curly haired babes for its seemingly magical properties.
The product only went on sale this month at Space NK and already has sold out nationwide. Stores are now keeping waiting lists for fans in anticipation of the next drop. (Several friends of mine have tried and been unable to get bottles.)
Living Proof is a new US brand exclusive to Space NK's network. The Massachusetts-based company is known in America for its advanced technological approach to haircare and has built a cult following since launching in 2004.
No Frizz's unique ingredient they say, is PolyfluoroEster, a special coating which, when applied to wet hair, creates a seal, preventing moisture from entering hair to make frizz when it's dry.
I managed to get my hands on some and am already hooked. My hair has been perfect. It's light, but also defined. I can totally see why people are loving it.
No Frizz is an expensive product, so could get pricey with regular use. (And, to be fair, Frizz Ease is pretty darn good.) I definitely think it's worth a try though. The range also includes products tailored specifically to different hair needs, from curl definers to treatments for straightened hair. Do you suffer from frizz?