New Product Alert: Philosophy Wild Blackberry Blossom
Calling all Philosophy fans! I have a treat for you. This month the brand has introduced a hot new scent to its collection: Wild Blackberry Blossom. The scent comes in a decadent bubble bath and body lotion so you can have the full Blackberry Blossom Experience (£13-19.75) if you like. The body lotion is made with scented cocoa butter, which is great for moisturising in Winter. Meanwhile, the bubble bath is a punchy blackberry fest. Perfect if you're on a diet and trying to stem sweet cravings – it smells good enough to eat!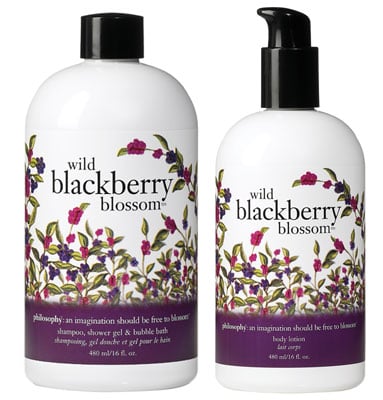 I managed to get my hands on both these beauties this week and am already on my third bath. The bubble bath froths beautifully so you literally need to pour it in and the flowing water will do the rest. The lotion is also quickly absorbed and retains its scent.
Wild Blackberry Blossom is a much fruitier scent than Philosophy's other varieties, although it fits with the brand's reputation for recreating the smells of my favourite food and drinks (See: Mimosa, Cinnamon Buns and Raspberry Sorbet bubble baths. Delish!) The packaging is also slightly different, featuring pretty printed flowers around the edge against a white backdrop this time, as opposed to the usual clear bottles.
Are you a fan of Philosophy?

Photo courtesy of Philosophy