New Product Alert! Sit Tight by Soap & Glory
Bellissima! Sit Tight by Soap & Glory
Surely they're kidding, right? A cream that helps you slim and firm — all with zero effort? That's what Soap & Glory is promising with a relatively new product that I've just discovered called Sit Tight (£14). The cream is what the brand is calling, 'Sit Activated', meaning that it works better when you're seated on your hind quarters!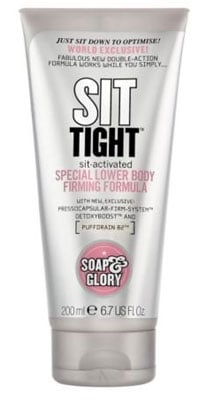 How does it do it? Apparently, it contains a patented 'Pressocapsular-Firm-System' that feeds off heat generated by your body to fight fatty tissue and detoxify skin. It also contains caffeine (between 27-33 percent), which the brand claims helps to drain and firm skin, along with eucalyptus, rosemary, rose, lemongrass and lime oils which are all effective in improving circulation and reducing puffiness.
I've been using the cream for a couple of days and am loving it, not least for its cheeky packaging! You're advised to smear on thick layer every morning, and after that there's a slight warm tingly sensation (which is bizarre, but not unpleasant.) Already my skin is appearing smooth and supple, but it's too soon to tell if the results will be dramatic. It's certainly a lot of fun though. Are you a fan of Soap & Glory?
Shop more of the Soap & Glory range below.