New Product Alert: Topshop Tattoo Transfers 2010-06-05 04:00:28
New Product Alert: Topshop Tattoo Transfers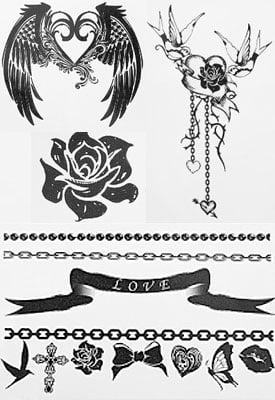 Chanel rocked the catwalk with the introduction of its beautiful transfer tattoos in January. (They were so popular Sarah Jessica Parker even wore them to the 2010 Oscars.)
Now Topshop, ever ahead of the game, has introduced it's own affordable versions! The capsule collection went on sale this week. Check them out!
The collection is made up of five designs, running from £4 to £6.50 and includes Chanel-inspired chain designs, hearts and flowers, all with a slight gothic feel.
Transfers and body art were a huge trend on the Autumn runways. Rodarte used tribal patterns. Meanwhile, Jean Paul Gaultier spray painted models names on to their skin.
It's been Chanel's versions that have really captured people's imaginations though, so much so there were huge lines when the company launched a temporary tattoo shop in London's Selfridges recently. Will you be buying Topshop's transfer tattoo designs?