OGX Chai Vanilla Latte Shampoo and Conditioner Review
This Shampoo Will Make Your Hair Smell Like a Pumpkin Spice Latte
As POPSUGAR editors, we independently select and write about stuff we love and think you'll like too. POPSUGAR has affiliate and advertising partnerships so we get revenue from sharing this content and from your purchase.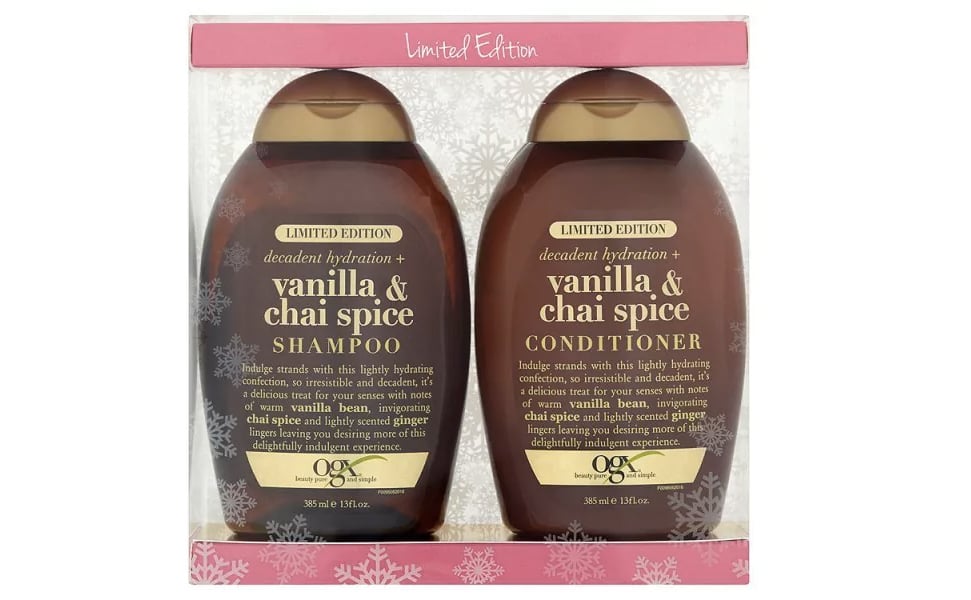 So many shampoos have overpowering powdery scents or use tropical fragrances that work brilliantly in warmer weather but don't quite deliver when the temperature drops. Step forward OGX, which has turned the sweet, spicy scent of a creamy vanilla chai latte into an indulgent haircare treat. And yes, it kind of smells like the infamous Pumpkin Spice Latte. Like a hot toddy in a bottle, I'm now obsessed with this Limited Edition Vanilla Chai & Spice Shampoo & Conditioner Duo (£5, originally £17).
I loved this at first sniff. Ginger, cinnamon, and vanilla are the main notes, meaning it smells as much like a gingerbread house as it does a steaming hot chai latte. I could smell it the whole time I was drying my hair and for a good few hours afterwards, and even my husband commented that my hair smelled nice.
As for the shampoo and conditioner themselves, I've used them countless times on my shoulder-length, highlighted locks, and they do a good job of keeping the frizz under control with a little help from some postwash serum. Funnily enough, though the shampoo is so thick and jelly-like it can be hard to squeeze out of the bottle, the conditioner is fairly lightweight, so I do find myself using a lot and have a feeling I'm going to get through the bottle long before I finish the other, but that's what comes with having thick, damaged hair! For me, the scent alone is worth snapping up these Winter warmers.