Ojon Restorative Hair Treatment
Product Review: Ojon Restorative Hair Treatment
A few weeks ago I was introduced to Ojon, a haircare company that specializes in nourishing hair treatments derived from the Ojon palm tree located in the forests of Central America. The tree produces a special oil that is harvested and extracted from its nuts, and when used on your hair, it helps to dramatically improve the condition and texture.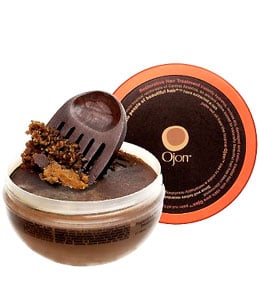 Their star product is the Restorative Hair Treatment (£38) packaged in a tub as a solid substance, however, once it comes in contact with your skin, it liquefies.
All you need is a little scoop (about a teaspoon). Rub it between your palms and apply it in sections from the roots to the ends. For super dry hair, you can put on a shower cap and use a blow dryer to heat the oil for more intense penetration, you can sleep with the oil in your hair (just cover your pillowcase with a towel), or just leave it on for fifteen minutes and then wash it out.
The smell is absolutely sensational. It has a warm, spicy nutty aroma and because a little goes a long way, the product has great value. It's also fun to use because of the solid to liquid matter change, but, it definitely gets messy, so I'd have a towel handy since the oil spreads onto everything you touch. After just one use, my hair felt silkier, bouncier and softer. After three uses, I've notice that it's also much more shiny. I will warn you that you'll need to save a few extra minutes in the shower for two washes, as just one won't really do the trick. Do you have a favourite deep conditioning hair treatment?