Olivia Inge Beauty
Interview: Model Olivia Inge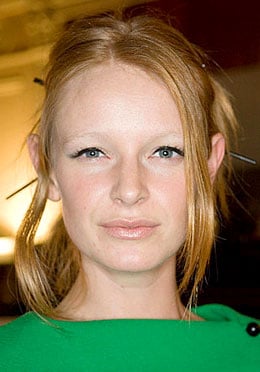 Catching up with Somerset born, five foot eleven model Olivia Inge after the Ashley Isham Show was one of the the highlights of this season's fashion week for me.
Whilst the high-spirited, fiesty model and socialite was getting a glossy, deep purple manicure (Nails Inc's Belgravia Place — of course I had to ask), we chatted about the first time she wore makeup (clubbing one night in South Africa), her contributing editor's role on her sister's Cult Beauty Website, her t-shirt that had a photo of two bare breasts on it and all about her deep, dark beauty secrets.






To find out Olivia's favourite products, her first experience with makeup and to see a gallery of photographs throughout the years, read more.
What's your secret to beautiful skin and hair?
Right now I'm using a John Frieda conditioner for ginger's called Radiant Red Colour Magnifying Conditioner that I love. Also, the blue kind of Kersastase Shampoo (Bain Bio Recharge) is brilliant. For my skin, I adore ILA Face Oil.
What are your favourite beauty products?
I can't live without Diorshow Mascara or the new bath oils from Neom!
What's your guilty pleasure?
Just one? I can't decide between sex and hot baths (she giggles).
What has been your favourite makeup look from a fashion show?
This season I was in the Jasper Conran show and I wore a really great red lipstick.