Olivia Inge Hair
How To Get Olivia Inge's Tousled Hair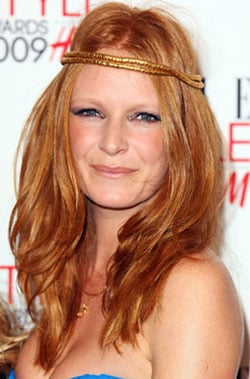 Five foot eleven English model and contributing beauty editor Olivia Inge, looked radiant last night in a short, bright blue strapless Ashley Isham dress at the 2009 Elle Style Awards.
Not only did her makeup look flawless and perfect (love the winged eye-liner look), but I especially I liked her double-strap Alice band. This grecian-inspired hair accessory was a gorgeous complement to the golden undertones in her strawberry hair.
Lucky for us, her hairdresser Shai, from the Gielly Green Salon dished about how she created her red-carpet ready look! To find out the three quick and easy steps involved in getting Olivia's tousled hairstyle, read more.
STEP 1: Shai began by blow-drying Olivia's hair until it is was eighty per cent dry.
STEP 2: Next, he separated the hair into sections and curled each one with a small round, bristle brush using a blow-dryer.
STEP 3: As a finishing touch, Olivia flipped her head upside down and shook out the curls. Whilst this looks like you are going to ruin the shapliness of the curls and take away all of the body, it helps give hair and a more volume and creates an undone, tousled effect.