Organic Pharmacy Homeopathic Remedies and Organic Beauty Brand
Bella Brand: Organic Pharmacy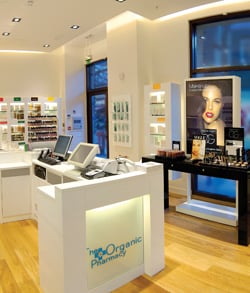 Recently I was lucky enough to meet with Margo and Francesco Marrone; the founders of Oraganic Pharmacy. The Organic Pharmacy is the first and only pharmacy in the world dedicated to health and beauty using organic products and treatments. They offer a unique service — custom blending herbs and homeopathic remedies to suit your needs.
The shops are a mecca to organic beauty with all products free from any toxins and carcinogenics. Plus their tailor-made treatments and health assessments with expert homeopaths and beauty therapists are a must if you feel like your lifestyle is starting to slip down the unhealthy route. I spoke to Margo about how to stay beautiful the natural way in this exclusive interview.
What's the ethos behind the company?
I wanted to create a purely homeopathic pharmacy. I wanted it to have the service-orientated focus of a traditional pharmacy using only homeopathic and natural remedies.
What is your background?
I did a degree in pharmaceuticals and fell in love with it. But when I started working in pharmacies I felt like the tradition of providing a great personal service had disappeared. It also felt like all we were doing was counter acting the side effects of illness without looking at the root causes. I started to become interested in herbal remedies and decided to go back and study homeopathy.
For Margo's top winter beauty tips and why organic is so important, just read more.
What inspired you to go organic? I started by looking at Bach's flower remedies which completely changed my thinking. It was a light bulb moment! I then came across the idea of organic; the thought that a single apple has been sprayed up to sixty times with pesticides and yet we think it's so natural and healthy. This was about 14 years ago so there was hardly any organic produce around but it changed the way I looked at food, which in turn affected my approach to medicine.
So it started with food?
Yes, I completely changed my diet —it was a real challenge then to find organic produce but I felt so strongly about not putting chemicals in my body. Then I started reading about all the chemicals in cosmetics and I was horrified. I was also pregnant at the time and became quite obsessive about finding product to use that were 100% natural and safe.
Why do you think using natural and organic is so important?
I think people would be shocked if they really thought about all the harmful chemicals they digest and put on their skin. Plus it makes such a difference to how you feel and what you can achieve. If you're bogged down with day to day illnesses and ailments you never have the clarity of mind to do what you want.
Do you have any advice about looking beautiful the natural way?
Working from the inside is always better than doing it from the outside. My top tip for winter beauty is our Supertonic Plus (£15.99). It increases your energy and supports the immune system so you are healthy on the inside, which is sure to show up on your skin.