Paloma Faith, Nicki Minaj and Audrina Patridge Two-Toned Hair
Who Has the Wackiest Red Carpet Two-Tone Hair Colour?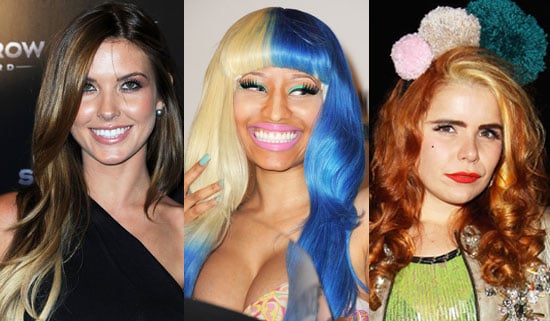 The past couple of nights have been chock-o-block with red carpet events, where women typically show up looking glammed to the nines in safe, yet sexy, hair and makeup looks. However, there are a few daredevils out there who aren't afraid to push the envelope and try something different — no matter what people think!
Take Nicki Minaj fo example. At the American Music Awards nominees press conference, she arrived looking a bit like Smurfette with yellow and blue hair. Paloma Faith also dyed her hair two different shades of fiery reddish orange and yellow at a Perrier Jouet champagne party in London on the same night, and last night in Los Angeles, reality TV star Audrina Patridge arrived with blond extension tips on her typically brunette or universally highlighted hair. Out of these three two-tone hair colours and styles, whose do you think was the most outer limits?