Paris Hilton Launches Tenth Fragrance!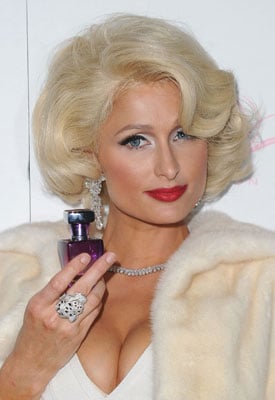 You've got to hand it to Paris Hilton. The girl has single-handedly created her own veritable fashion and beauty empire since launching on the scene a few years ago.
Last night saw the latest addition, a new scent called Tease in Los Angeles. It marks the tenth fragrance in her burgeoning fragrance collection.
Tease is inspired by Marilyn Monroe and for the occasion Paris worked blonde bombshell glamour to the max, sporting a retro 1960s hair do, bright red lips and arched eyebrows. She paired it with a white Herve Leger dress.
Guests on hand at the event included Piers Morgan and Amanda Holden alongside Entourage star Adrian Grenier.
Paris tweeted before the event: "At home getting ready for my Tease fragrance launch event. Getting dressed up as my Idol and Favorite Icon Marilyn. Loves it!"
Tease went on sale this week and is said to be a floral woody scent with notes of the sea. (Sounds interesting!) It joins Just Me, Can Can, Heiress, Fairy Dust and Siren, among others.
Personally, I like Paris Hilton. The fragrances are fun and she always does things with a sense of tongue in cheek. She doesn't seem to take herself too seriously either, which is endearing!
Are you a fan of Paris Hilton?
Shop Paris Hilton beauty and fragrances by clicking through below.