Pat McGrath for Dolce & Gabbana Autumn Winter 2011 Makeup in Milan
Masculine and Feminine Makeup Looks at Dolce & Gabbana
At the Dolce & Gabbana show in Milan yesterday, the talented Pat McGrath drew her inspiration for the look by combining masculine definition and soft, glowy feminine beauty. The models were divided into two groups and showcased this "sense of contradiction between light, minimal taupe tones and deep berry stains on the lips" using Dolce & Gabanna makeup.
Pat began by applying The Foundation all over and blended Perfect Finish Concealer underneath the eyes. To achieve the feminine look, she used all of the colours in The Smooth Eye Colour Quad in Femme Fatale on the lid. Next, The Eyeliner Crayon Intense in Black was used on the top lid, and The Eyeliner Crayon Intense in Nude was used in the waterline. Pat then applied a small amount of The Eyeliner Crayon Intense in Shimmer to corner of the eye, followed by The Mascara Volumized Lashes, The Blush Luminous Cheek Colour in Warm on the cheeks, The Illuminator in Eva on the high points of the face and The Classic Cream Lipsticks in Glam and Dramatic on the lips.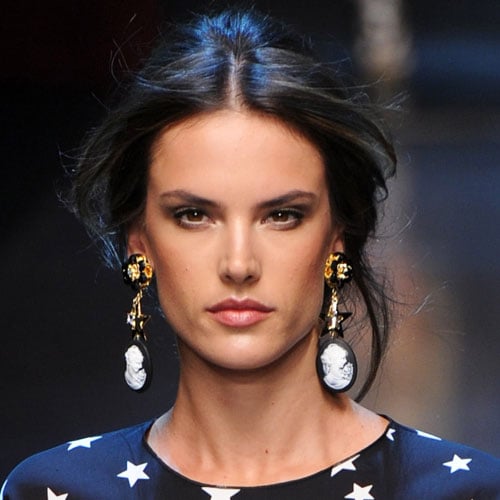 For the masculine look, Pat squared the taupe eyeshadow from The Smooth Eye Colour Quad in Femme Fatale all around the eye. Lashes were curled and brows were filled in the same shade as the hair. Then, The Luminous Cheek Colour in Tan was used to add structure and contour on the face along with a sweep of The Illuminator in Eva along the brow bone and cheekbones. Lastly, lip balm to an otherwise natural lip!