Pat McGrath Lust 004 Review | Photos
Pat McGrath's Iconic Lust 004 Will Be Available Again Soon!
As POPSUGAR editors, we independently select and write about stuff we love and think you'll like too. POPSUGAR has affiliate and advertising partnerships so we get revenue from sharing this content and from your purchase.
Update: Pat McGrath's Skin Festish 003 and Lust 004 will be available to purchase again on Friday, March 3, and Monday, March 13, respectively, for a limited rerelease.
It goes without saying that Pat McGrath is a legend. She was practically a mythical unicorn to me . . . that is, until I met her. I've followed her work unabashedly, as most beauty connoisseurs do. I envy anyone she puts a brush to. So obviously I couldn't handle it when she released Gold 001, the first product from her namesake lab. (By the way, only 1000 were available, so if you got your hands on one, pat yourself on the back. Pun intended.) All that said, I decided to take myself out to Hollywood for an evening at the Chateau Marmont to meet Pat for the first time and get an up-close and personal look at the new Lust 004 ($40), out Aug. 30.
This, pout proprietors, is the lip kit to end all lip kits. I'm not saying that to discount Kylie Jenner: we can all agree that Kylie's lip kits are great products, and the 19-year-old's beauty business is doing just fine. Pat's kits, however, go beyond lining and filling in. They encourage you to step out of your comfort zone. They encourage you to embrace your individuality. They want you to be seen. After all, they include glitter, for heaven's sake. Doing anything with glitter requires a certain air of confidence, no?
When you get your hands on Lust 004, test it and just try to tell me you don't want to rule the world. (And believe, without a doubt, that you could.) Normally, I wouldn't consider glitter to be a wearable look for the everyday, functioning human, but now I'm plotting how I can incorporate it into my daily routine. One great thing about the kit is that it gives you just enough sparkle in photos without making you look like you raided the arts-and-crafts bin. Up close, it isn't distracting. It's intoxicating.
Here's the skinny with the kits. There are three colour palettes to choose from: Flesh, which features a beige and a taupe lipstick; Vermillion Venom, which reads like ruby and bourdeaux; and Bloodwine, featuring a deep crimson and a plum shade. (Each look is depicted here by three beauty editors.)
Every kit includes two pigmented matte lipsticks, which you apply first; gold pigment, which can be used to accentuate your Cupid's bow (or whatever the heck you want, really); clear vinyl gloss to adhere the glitter or to mix with the gold pigment; and microfine glitter. Pat wasn't playing around with this glitter. It sparkles like the Maison Margiela building on Santa Monica Boulevard, but it has the consistency of icing sugar. (That's how finely milled it is.) You can purchase the kit, or if more is more, you can pick up Everything. Yes, Everything — which includes all six matte lipsticks and all three glitters in addition to the lip vinyl and gold pigment — will cost you $150. The Singles ($25) include one matte lip of your choice.
You'd think that walking around with a pout drenched in glitter would make it different to do ordinary things like talk, eat, drink, etc., but Pat isn't irresponsible. She made sure you could perform your mundane daily tasks while showing off a "metaphysical masterpiece" on your lips. A ruby lipper, if you will.
At the Chateau, a crew of glitter-adorned patrons sipped on vibrant ruby cocktails, ate delectable fare, and took photos at one of those booths that instantly makes your skin worthy of a magazine cover. There were several stations set up with artists ready to deploy their brushes. Chrissy Teigen, makeup artist Mary Phillips, and Instagram artists like Vlada Haggerty were all in attendance to get their lips polished up. In one room, footage of Lust 004 rolled while the rose gold packages lay flat, displayed by burning candles and a wall of Pat's inspiration. I considered it an altar.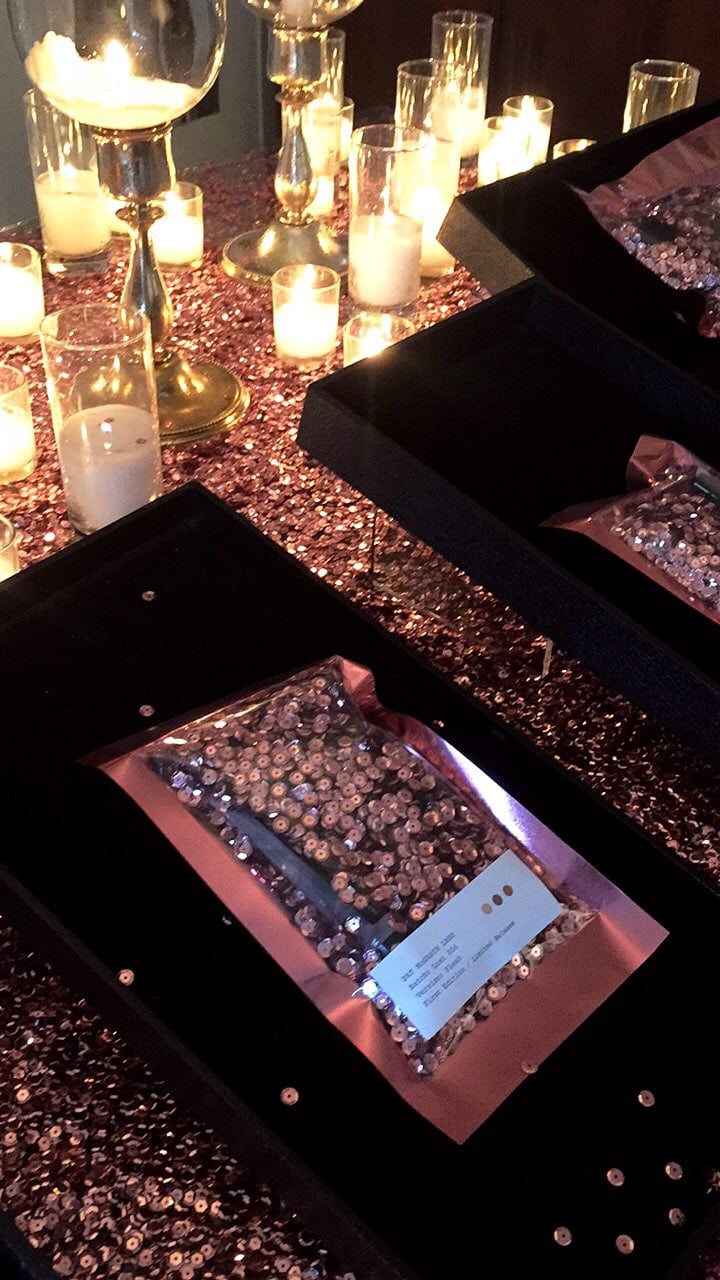 While in the chair with celebrity makeup artist Heather Currie, one of Pat's former assistants of six years, she instructed that I try a "thinking pose." "Act like you're thinking about something," said Currie, and instantly I moved my lips as far to my right side as I could. This helped her pick up excess glitter in the crevice of my mouth.
Another suggestion for perfect glitter application? Don't go HAM with the lip vinyl. Instead, lightly coat your lips with it using a brush, then press the microglitter in with your finger or a different applicator. Otherwise, you'll end up with a goopy glitter drip. This might create the perfect photo, but isn't ideal for taking over the world.
And yes, I did get to meet Pat. She was lovely as you might expect, without a stitch of makeup on her gorgeous skin. Surprisingly, she is in tune with the app FaceTune, which she jokingly suggested we all use on our selfies with her. Scroll through the gallery to see more photos of the kit and how it looks on.