Paul & Joe Christmas Gift Set. Indulgent Beauty Christmas Holiday Shopping Buys
Paul & Joe's Boudoir Beauty Gifts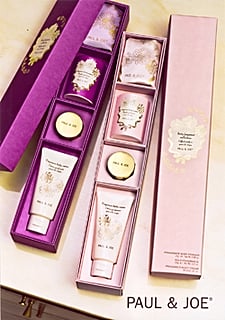 I know it's only October, but already all the big beauty brands are starting to introduce their Christmas gift packages in stores across the country. I'm head over heels in love with these beautifully feminine gift sets (£35 each) from Paul & Joe. The pretty sets are now available from asos.com, Fenwicks and Harrods.
Paul & Joe's indulgent sets are available in two fragrances. Green Floral comes in a pink box and is a fresh and fruity perfume. It's created from a mix of rose, lily, orange flower and violet with a vanilla and heliotrope base for a sweet scent. Meanwhile the purple set is entitled Exotic Floral and is a mature floral fragrance with gardenia, jasmine and camomile. A white musk and sandalwood base makes for a sophisticated smell.
For my review of the Paul & Joe box sets, just read more.
Each collection contains a Fragrance Body Powder, Solid Fragrance, Fragrance Body Cream and a gorgeous satin drawstring bag. The products have been designed to be worn together, to create different layers of fragrance for a long-lasting, yet still subtle, effect. The solid fragrance is particularly useful for popping in your clutch bag for the party season, plus I'm crazy about the fragranced body creams. They contain orange flower water, avocado and oilve oil to really nourish and moisturise the skin.
This is one of those Christmas gift sets that I'm always tempted to buy for a relative or friend and then can't resist keeping for myself. The season of good will? To avoid temptation, add it to your wish list now.