Penelope Golden Globes
How-To: Get Penelope Cruz's Golden Globes Glow
Last night at the Golden Globes Awards in Los Angeles, Spanish actress Penelope Cruz arrived on the red carpet wearing a strapless Armani Privè gown and had her hair styled half up and half down with height at the crown and fringe in the front.
Her makeup was classic, elegant and all Chanel (I should've guessed). Lucky for us, her makeup artist Jeanine Lobell, has decided to dish on all of the colours and techniques that she used to make Penelope look so pretty. Jeanine really wanted to focus on enhancing her big brown eyes and so she decided to keep her skin and lips neutral to help complement the nude dress.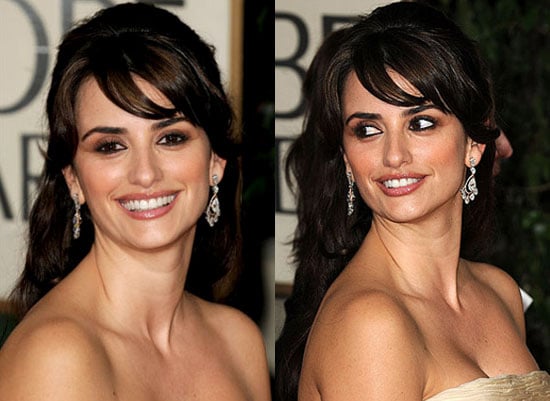 To read about each of the products used on her cheeks, eyes and lips, and for more images of Penelope on the red carpet, read more.
CHEEKS: To ensure that Penelope's cheeks were natural, warm, yet had a slight rosy flush, Jeanine decided to use light sweeps of Powder Blush in Rose Petale starting from the apples of her cheeks and pulling the brush towards the top of her ears.
EYES: Since the goal of this beauty look was to accentuate Pen's eyes, Jeanine started with a bone-coloured base shadow and then applied Silky Eye shadow duo in Brun-Express. She used the matte brown shade to make the lid nice and smoky and blended the colour all the way into the crease. Next, she added brown shadow under her eye and then lined the inner and outer rim of her lower and upper lashes with Intense Eye Pencil in Noir. Then, she smudged the top line and applied two coats of Inimitable Mascara in Noir on the top lashes only.
LIPS: OK, so maybe I stretched the truth a little bit about all of the product being Chanel. Apparently Penelope opted to use her own nude lip liner which was applied all over, and were then topped with a clear gloss. This creates subtle colour with sexy shine.