Peter Pilotto Spring 2011 Beauty
Backstage Beauty: Clean Hair and Makeup at Peter Pilotto
It's hard to believe that it's already been a week since I attended Peter Pilotto's Spring 2011 Fashion Show. This was certainly one of the coolest runways I have ever seen. The show was held over at the old Eurostar Rail Station and the catwalk was a train platform set in front of wall of windows. In more ways than one, the sun was shining brightly over Peter Pilotto and partner Christopher De Vos that day. The clothing was drapey and feminine, whilst hair and make up was soft and delicate.
Backstage, I got the chance to speak with James Pecis for John Frieda who talked me through the hair process that began at five o'clock in the morning! The idea for this chic bun came from a '70s Hermes ad they decided to "loosen up". The stylists started off by creating a centre part and then using Luxurious Volume Thickening Blow Dry Lotion for texture. Next, they blow dried hair using their fingers and then back-combed hair at the roots to create a webbed effect. Lastly, pull hair into a ponytail, but don't pull it all the way through. Secure it with as many pins as necessary. I loved how he mentioned the irony of this effortless hairstyle, when in fact it took quite a while to achieve.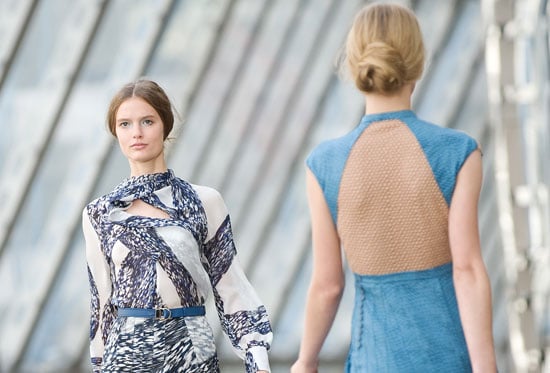 I was also lucky enough to interview Olivia Chantecaille, Creative Director of Chantecaille, who worked closely with lead makeup artist Lisa Houghton on the brands first ever fashion collaboration! Olivia had been watching the designers for a while and loves their modern use of colour. So, she was very excited about creating a chic minimal look that focused on the eyes but had a slight futuristic twist. To find out what products were used on the models and how they were applied, just read more.