Philosophy Coconut Frosting
New Product Alert: Coconut Frosting from Philosophy
Do you like the sweet smell of sugary treats in the morning? I can't think of a more perfect way to shower then with the scrumptious new Coconut Frosting skin care range that launched a few weeks ago from Philosophy. The three products included are a Salt Scrub (£20), a rich Body Butter (£17) and their signature 3-in-1 Shampoo, Body Wash and Bubble Bath (£14).
What's great about the products is that the scent in the packaging is quite strong, but the scrub and the gel completely wash off in the shower so that you get to enjoy the experience in the moment without it lingering all day long. The body lotion on the other hand, leaves you with a light, sweet scent, but nothing too overpowering that will make you queasy like their Handmade Lemon Custard Hand Cream (which has just been discontinued due to complaints!)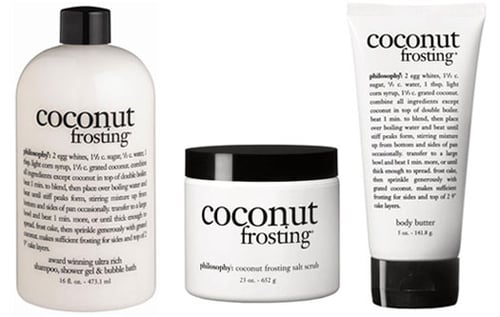 My favourite product in the group is the ultra-thick, glycerin based salt scrub because it leaves your skin unbelievably soft — and a little goes a long way. Do you think you'd be into buying coconut frosting beauty products? For close up images of each of the products, read more.