Photo of Actress Emilia Fox and Charles Worthington Promote Time Defy Anti-Ageing Hair Care Range
Emilia Fox Shows Us How To Age Proof Our Hair
Award-winning actress and English rose Emilia Fox is all set to be the new face (and hair) of Charles Worthington's Time Defy Hair Care range. We all get so caught up trying to age-proof our skin that it makes sense to take the same approach to our hair. Time Defy is a range of anti-aging hair products targeted at the thirty-plus woman. It's based on the premise that (along with our skin) our hair type can change as we age.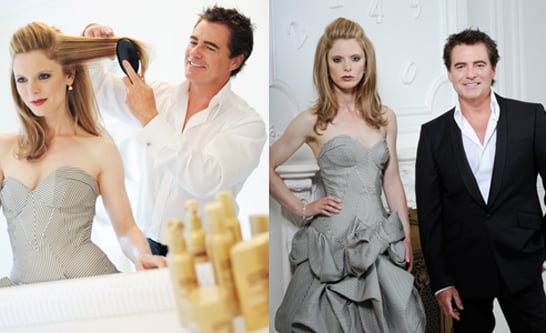 As an in-demand actress Emilia's hair often goes through colour and style transformations, making her a great choice of role model for this range. She says, "Daily styling and colouring have taken their toll over the years and I noticed how the condition of my hair changed when I hit my thirties." To promote the line Emilia shared some of her beauty and hair secrets.
You've been positioned by the media as a classic English rose — are you comfortable with this?
I love roses and I am English so it definitely works for me! I love floral print and vintage styles, so I think that's how I've earned that description but I quite like people having their own views about how I should look. It's why I love being an actress, dressing up and having different looks and being styled by others.
What's your best anti-aging tip?
My best tip is to look after your hair as much as you look after your skin and your body.

For Emilia's thoughts on beauty and ageing, simply read more.



Do you have a daily hair and a daily beauty routine?
I wash my hair every day or every other day and make sure I use a good shampoo and conditioner to keep my hair moisturised and looking good – which is why I use Time Defy. I'm a great believer in always moisturising and because I'm so pale I always use a sunblock.
There can be quite a negative view of age in the film industry. Do you think mature actresses such as Helen Mirren are changing this?
I think there has always been a negative view of aging within the film and fashion industries, there's this idea that we can only look attractive when we're young which I think is beginning to change. As I'm getting older I am more aware of what I look like because it's being recorded on film. I think we now have a slightly different response to getting older and that's to do with incredibly attractive women like Helen Mirren, Meryl Streep and Francesca Annis – all beautiful, sexy women who aren't in their twenties. We are starting to celebrate women getting older.
When you're not filming do you have a particular look and style?
When I'm not filming I tend not to wear make up and try to look after my skin and hair. I go for a very natural look which is the opposite to when I'm filming.