Photo of Actress Nicole Kidman at Elle 15th Women in Hollywood. Straight Blonde Hair with Grey, Lime Eyeliner. Love or Hate?
Love It or Hate It? Nicole Kidman's Chic Beauty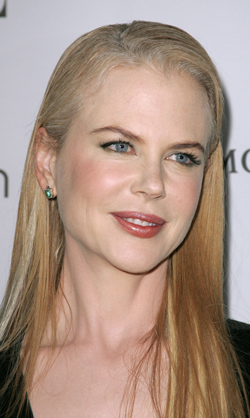 At Elle's 15th Annual Women in Hollywood event last night, a glowing Nicole Kidman rubbed shoulders with a host of stars, including Kate Beckinsale, Halle Berry, Eva Mendes and Anne Hathaway.
Nicole looked incredibly fresh faced, with perfect skin and just a hint of pink blush. Her eye makeup was dramatic, with dark black kohl on the upper lashes and a smudgy, lime green colour just below her eyes. This somewhat bizarre combination actually looked stunning thanks, I'm sure, to her expert makeup artist.
Nicole's dark rose lip colour bought out the flush in her cheeks and she wore her hair poker straight. I'm not sure about the different shades of blonde in her hair though, and is that a hint of grey I can detect near her roots?
How about you, do you love or hate Nicole's beauty look?