Photo of Anne Hathaway Commercial Advert for Lancome Magnifique Perfume Beauty Sneak Preview
Lancome Thinks Anne Hathaway is Magnifique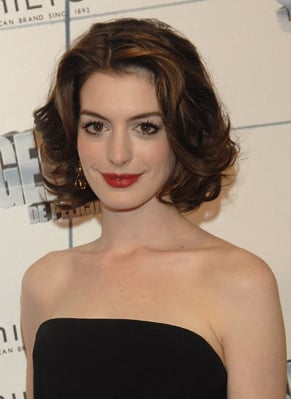 Since she was appointed the new ambassador of Lancome earlier this year – Anne Hathaway had certainly upped the ante on her fashion and beauty choices. Once famed for her slightly gawky, teenage wide-eyed look she has recently metamorphosised into a super-stylish starlet.
Anne is starring in a glamorous commercial for the brand's new fragrance, Magnifique, which is out in September. She looks classically stunning, with pale skin and dark eyes, framed with loose curls (this was filmed before she cut her hair).
The doe-eyed beauty seems like a natural choice for the luxe brand, which has a fresher, more feminine appeal than some of it's competitors in the luxury beauty industry.
Odile Roujol, President of Lancôme International, has stated that "Anne Hathaway is a radiant young woman who perfectly embodies modern femininity. We know she will portray all the passion and excitement of our new fragrance."
The slightly film noir ads are definitely very romantic, but do you think they're cheesy or chic? Take a look at the sneak preview on Bella US.
Source