Photo of Charlize Theron at Hancock Premiere. How to get her Beauty Hair Look Style. Expert Beauty Tips and Tricks
Hair How To: Charlize Theron's Angelic Waves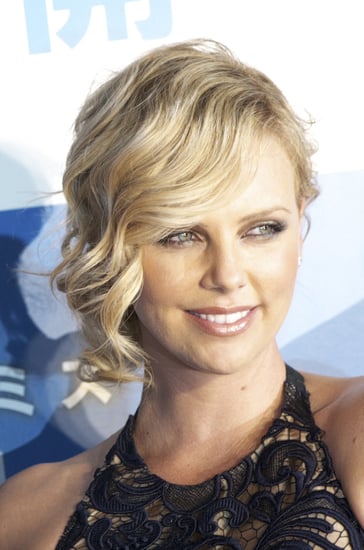 Charlize Theron never fails to wow me with her beauty – I get the impression that she must be truly breathtaking in person.
At the premiere of Hancock, with Will Smith, in Tokyo, yesterday, she was certainly working the trends.
Lace dress? Tick. Smoky, soft goth eyes? Tick. Super natural, glowing skin? Tick. But it was her hair that I was most impressed by.
Charlize is one of the few red carpet actresses who manage to work hair trends and not look like they've tried too hard. Polished yes, but never over-preened or fussy.
Here's some tricks for getting her look at home. Just read more
When your hair is wet, create a deep side parting, letting it fall over one eye. Pin the front section aside and rough blow dry the rest of your hair. Secure it at the back in a messy twist, with pins.
Next, unpin the front section and blow dry straight, over one eye. To add extra shine, like Charlize, try a glossing product such as Shu Uemura Art of Hair Silk Oil Camellia Smoothing Fluid.
Use a large, round bristle brush to create extra sleekness, while maintaining volume.
Now, spritz with a heat protecting spray, such as Andrew Collinge Heat Defence Spray, (£3.99).
Then divide this front section into three to five smaller sections. Lightly tong each section, starting below your brow line, with curling tongs.
Be careful not to tong for too long. 30 seconds for each section should be enough, as you're aiming for waves not curls.
If you're having trouble creating the face-framing wave just at eye level, simply pin the whole section to the side of your head, in line with your brows, using hair grips. Leave it like this while you do your makeup. When you take the grips out you'll have created an artful kink and that seductive, hair-over-the-eye effect.