Photo of Donatella Versace Launch Luxury New Perfume Gianni Versace Couture
Versace Create Ultimate Luxury Fragrance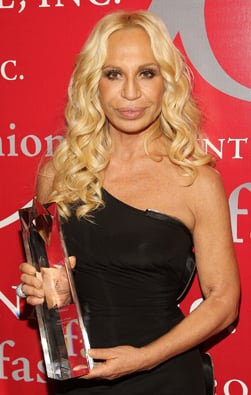 Donatella Versace is never one to skimp on excess. Known for famously stating "more is more," the designer has just created what appears to be one of the world's most luxury perfumes. Despite the threat of a worldwide recession Donatalla's new fragrance will retail at $2,100.
The eau de parfum comes in a gleaming, hand-stitched white leather train case. It's been named simply Gianni Versace Couture, in tribute to Donatella's brother. The house of Versace has been working with it's beauty licensee and distributor, Euroitalia of Milan, for the past three years. Other fragrances in the stable include Versace, Versace Pour Homme, Versace Bright Crystal and Versace Man Eau Fraiche.
"Versace has reestablished itself as a modern luxury brand," Donatella told WWD. "The Gianni Versace Couture fragrance project will reestablish Versace at the top of the beauty luxury sector."
For what to expect plus an image of the gorgeous product, just read more.
The perfume is certainly opulent. The 3.4-oz. bottle of scent is sheathed in the same leather as the train case. Both the sheath and the box bear metal plates engraved with "Gianni Versace Couture." The amazing workmanship and made-to-order quality has been designed to evoke the era of lost glamour. The bottle is also supported inside the case by a liner that can be removed so that the leather box can function like a regular (if incredibly sumptuous) carrying case.
The formula itself boasts citrus accents of bergamot and mandarin blended with red berries and tangerines. There's a floral feel too with jasmine, heliotrope and almond blossom tones. The base is muskier as tonka bean is combined with patchouli heart and sandalwood.
"I have always loved beauty, so I wanted to create a truly special fragrance," said Versace. "It represents all the most luxurious elements I personally love and is a one-of-a-kind sensual experience."
In order to give the scent something of a limited edition feeling, it won't be widely available. Current plans call for the train case to be retailed only through Versace's 84 boutiques around the world. It will be launched in November in Europe and in the US in December. Initially only a hundred pieces will be created, although there are plans for more to be created upon request.