Photo of Ekaterina Ivanova With Cat Makeup. Rolling Stone's Ronnie Wood's Girlfriend. Love or Hate Her Halloween Look?
Love It or Hate It? Ekaterina Ivanova's Cat Woman Makeup
It looks like Ekaterina Ivanonva has prepped early this year for Halloween. Back in August the model and girlfriend of Rolling Stones guitarist Ronnie Wood created a dramatic and colourful cat look with plenty of face paint. Channeling a cartoonish cat woman vibe, Ekaterina and her friend were definitely having fun with their look.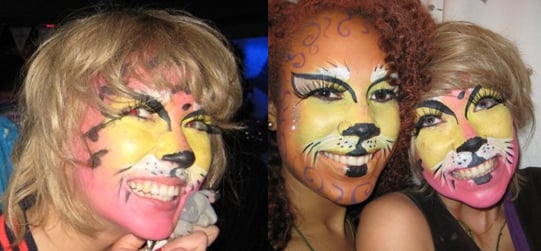 I love the whiskers and yellow with pink. However, if you're inspired but not sure about the bright colours then check out my easy tips on getting a cat look for this Friday. What do you think of this style on Ekaterina?