Photo of Elizabeth Hurley and Estee Lauder Support Breast Cancer Awareness Month October 2008
Elizabeth Hurley and Estée Lauder Support Breast Cancer Awareness Month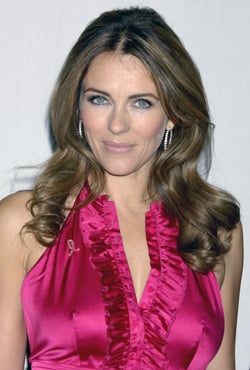 In honour of Breast Cancer Awareness month Elizabeth Hurley made a special visit to Selfridges, Oxford Street yesterday to meet delighted fans and share her makeup tips. She met customers in the beauty hall at the department store to sign purchases from the Estée Lauder Pink Ribbon Collection. This year the collection includes Elizabeth's favourite lip glosses from the brand as well as the glamorous Pink Ribbon Diary 2009.
Breast Cancer Awareness Month was introduced as a worldwide campaign in 1993 by Evelyn Lauder. For how you can offer your support and treat yourself to some new beauty buys, just read more.
This year Estée Lauder has produced a chic handbag staple, in the form of the Pink Ribbon Diary (£45). Created in association with DeBretts, £25 from each diary sold will be donated to the charity. Meanwhile if you fancy stealing Elizabeth's beauty secrets try the Elizabeth Hurley High Gloss Color Collection (£13). This divine lip gloss set includes three of Elizabeth's favourite high gloss shades, including Pearl, Rose and the new, limited edition Pink. The exclusive set comes in a sleek Pink Ribbon case making it the perfect beauty essential. From each purchase £5 will be donated.
I'm also rather taken with the Evelyn Lauder Lip Color Collection (£18). This delightful lipstick trio includes shades chosen by Evelyn Lauder herself in Candy, Rich Berry and limited edition Bali Rose. They're all presented in a stylish pink case exclusively created for the Pink Ribbon Collection and again £5 from each purchase will be donated to the cause. All donations will be made to the Breast Cancer Research Foundation for its expert research programme at the UK's Royal Marsden Institute of Cancer Research.