Photo of Ellen DeGeneres To Be New Face of CoverGirl Cosmetics Brand
Ellen DeGeneres is The Latest CoverGirl Star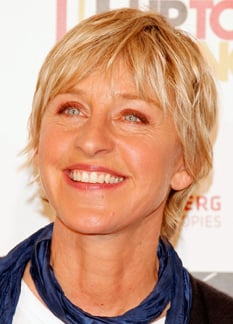 Talk show star Ellen DeGeneres is to join a whole host of supermodels, including Christine Brinkley, as the new face of Covergirl makeup according to recent reports. The fresh-faced comedian who just married her girlfriend Portia de Rossi is apparently shooting the campaign this week.
Ellen, who usually wears minimal makeup, is a somewhat surprising choice for the brand, but as they try to garner the support of an older market she will be working alongside model Christie Brinkley who was the original face of CoverGirl cosmetics. Christine originally promoted the brand for two decades and has now been rehired to enhance the public profile of their new line which is aimed at an older target market.
Ellen will be following in the footsteps of Drew Barrymore and Rihanna who have been previous spokespeople for CoverGirl. Whilst I admit that I would never have expected the down-to-earth Ellen to be chosen as the face of a cosmetics brand, on retrospect I think it's a pleasing match and it's certainly refreshing to see brands using celebrities in the same age bracket as their customers.