Photo of Eva Mendes in Banned Calvin Klein Advert Commerical Secret Obsession Perfume Out in UK Today
The Secret Obsession of Eva Mendes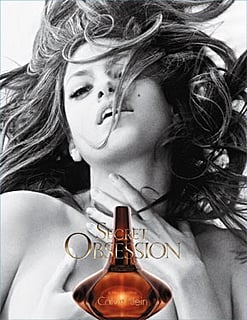 Calvin Klein's new fragrance – Secret Obsession – hits beauty counters across the country today, and we're sure Eva Mendes, the face of the scent, is basking in the sweet smell of success.
Eva stars in the perfume's controverisal ads which were banned in the US, for being too sexy. Never one to shy away from controversy, Eva was defiant after the ban, saying "it makes me more proud".
Secret Obsession's cool bottle pays homage to the original '80s Obsession, whose ads featured a youthful Kate Moss.
Secret Obsession is a stronger, more floral perfume than the original, however. Notes of plum, jasmine, tuberose, wood, amber, vanilla and sandalwood make it a seductive, womanly scent that dovetails nicely with Autumn/Winter's focus on grown-up glamour.