Photo of Gossip Girl Actress Taylor Momsen with Bangs New Fringe Hair at New York Fashion Week. Bleach Blonde Mullet Style Trend
Bang Bangs for Taylor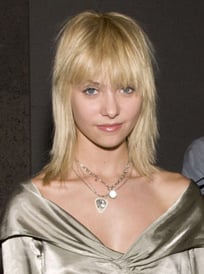 Gossip Girl actress Taylor Momsen created quite a stir as she showed off her new fringe at the Chris Benz show at New York Fashion Week, yesterday. The choppy bleach blonde style had a rock chick edge with rough layers and an almost mullet-esque feel to it. Taylor sensibly offset her cutting-edge hair do with a more glamorous gold satin dress that showed off her perfect, almost translucent skin.
With Victoria Beckham unveiling a new short, spiky crop at Fashion Week, and America's Next Top Model winner CariDee English recently getting a fringe cut, it certainly seems that one way to keep the papparrazi interested is to go for the chop.
As Kate Moss knew only too well when she sported this look earlier in the year – a long fringe that falls in your eyes gives you a mysterious, sultry appearance, making this a super-sexy, as well as on-trend look for Taylor. Thick fringe also draws attention to your nose and mouth, which is not so great if you have a large nose, but if like Taylor, yours is button cute then it works well. I love how Taylor has complemented the vanilla blonde shade in her hair with natural makeup and rose pink lip colour. Now we have something to gossip about.