Photo of Grace Jones Red Carpet 2008 Mobo Music Awards. Love or Hate Her Gold Lace Cat Mask Beauty Look?
2008 Mobo Awards: Grace Jones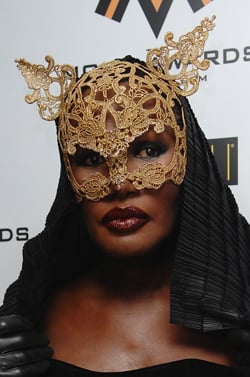 Singer, model and all-round music icon Grace Jones walked the red carpet last night at the Mobo's. While it's a little early for Halloween, Grace played dress-up in this intricate gold mask. A lace effect plus pussy cat ears made for maximum look-at-me impact.
I love her glam goth deep black eyes combined with dark red lips and glowing skin. What do you think of her beauty look?
Be sure and check out more of our style polls from the 2008 Mobo Awards, here.