Photo and How To Get Posh Victoria Beckham's Latest New Hair Cut. Expert Styling Beauty Secrets for Pixie Spiky Crop Style
How to: Victoria Beckham's Pixie Crop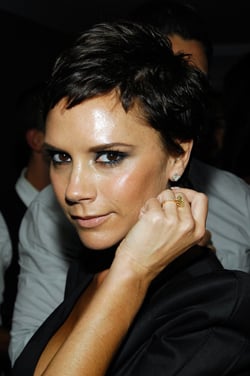 Victoria Beckham's new gamine crop gives her a younger, sassier look that wowed the crowds at the Marc Jacobs show. Victoria loves to experiment with her hair and this spiky style looks gorgeous on her, partly because it was tailor-made to suit her face shape and body.
Victoria's new cut is the work of celebrity hairstylist Garren who apparently chopped Audrey Hepburn's iconic crop, as well as creating short looks for the likes of Linda Evangelista and Mia Farrow.
Jacqui Weaver, Creative Director at Fish salon in Soho, London advises "The crop best suits people with good strong cheekbones and small pixie-like features. Posh pulls this cut off as she has lovely high cheekbones and it enhances her swan-like neck."
The pixie crop is also super versatile, as it can be worn sleek or spiked up. Here's some easy styling tips to re-create Victoria's look of the moment: Just read more:
Work with product to really show off the texture. A messed-up, dishevelled do generally looks younger and sexier.
Use hair wax to add definition to the pixie cut. Try Play Fish Sculpt & Define Wax, (£5.49), for extra texture.
Rub a small amount of the wax vigorously between palms and apply to damp or dry hair. Then simply finger style for a mussed-up effect.
Short hair can be incredibly low maintenance but if you're using lots of product you'll need to wash it every day with a nourishing shampoo. I like Charles Worthington Brilliant Shine Takeaways Shampoo, (£1.65). This way you start with a clean canvas each morning for styling your hair.