Photo of Jennifer Ellison with Plait Hair Style Catwalk Beauty Celebrity trend: Jessica Simpson, Nicole Richie. Expert Tips.
How To: Perfect Plaits for Jennifer Ellison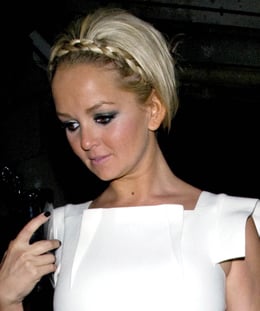 After designers showcased multiple braids this season, including the skinny pirate plaits at Jean Paul Gaultier, the braid could well be crowned the hair trend of the 2008. While most of you love this look it has become a touch ubiquitous in celebrity world, with both Nicole Richie and Jessica Simpson making the trend their own, with single, double and triple braid styles.
Last night, at Dolce in London, Jennifer Ellison followed suit with a Grecian, milkmaid braid wrapped around the crown of her head, as well as a fluffed-up, pulled-back up do. Perhaps it was because the colours didn't seem to match, but there was something odd looking about this style that made me think it was a hair piece.
Admittedly, plaits can be tricky as you're walking the line between Little House on the Prairie and Grecian goddess. For a few easy tips, read more.
For a quick up do, follow Nicole Richie's lead with a braids and bun style. Simply take two sections at the front and plait so you have two long plaits falling on either side of your face. Then scrape hair back into a messy bun and pin. It's supposed to look slightly unkempt so don't be too neat.
For a flattering milkmaid braid, either use a hair piece that matches your hair colour correctly, like Sienna Miller, or wrap around the centre of your head, instead of the front, like Salma Hayek.
Use your centre parting as a guideline, then create two braided plaits and secure each braid with a small hair band. Aim to cross the plaits over the top of your head and secure each side with bobby pins.
For an easy, pirate plait look, just take random sections of hair and plait. Take from the underneath of your hair to make for an unstructured look.