Photo of Jennifer Lopez on Elle US Cover Story: Modern Elizabeth Taylor Says Fashion Designer Michael Kors
Jennifer Lopez's Glam US Elle Cover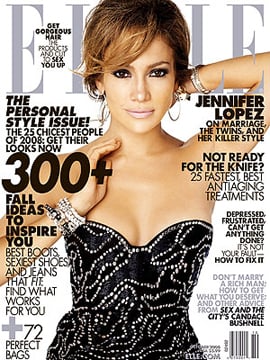 Jennifer Lopez is looking typically glamorous on the cover of US Elle this month. For the October issue of Elle, the superstar took time to pose wearing heavy eye makeup with her trademark glowing honey-coloured skin. Designer Michael Kors says in Elle "Jennifer epitomizes my love of the modern jet-set woman — today's answer to Elizabeth Taylor glamour, circa Butterfield 8, all dipped in tones of honey, caramel, and camel."
I usually adore Jennifer's take on shimmering nudes and gold tones, as well as dramatic eye looks, but I was left slightly cold by her makeup look on this cover. We all know the rule about eyes or lips, in terms of vamping it up, but the coal black eye makeup contrasted with the almost sickly pink lipstick, just didn't do it for me.
The 39 year old beauty told Elle her often trend-led makeup and fashion choices are due to her love of old-fashioned Hollywood allure. "I've always loved the glamour," she says "I can't shy away from that. I've always been very girly."
"Jennifer is the epitome of old Hollywood," Stefano Gabbana, of Dolce & Gabbana adds, "Natural beauty and striking confidence." I do agree, I just wish she'd go back to the tonal metallics now that's she's kick started the trend.