Photo of Jessica Biel at Easy Virtue Premiere in London. Love or Hate her Glowing Makeup and Pink Lipstick?
Love It or Hate It? Jessica Biel's Glowing Makeup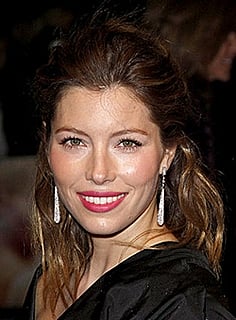 Actress Jessica Biel looked luminous at the gala screening of Easy Virtue last night, as part of the London Film Festival. I love the caramel shades of dirty blonde and brown in her hair and the way she isn't overly groomed. Her skin looks radiant too, with the sort of healthy glow that we all crave.
Jessica has chosen a pretty shade of pink blush to bring out the golden tones in her complexion. Just a hint of kohl and some black mascara makes her green eyes look naturally sparkling. I'm not sure about the 80's pink lipstick though, but it definitely suits her colouring. How about you, do you love or hate this look on her?