Photo of Jessica Taylor Liberty X Launches Sweat in the City free Gym membership in London for Women
Sweat in the City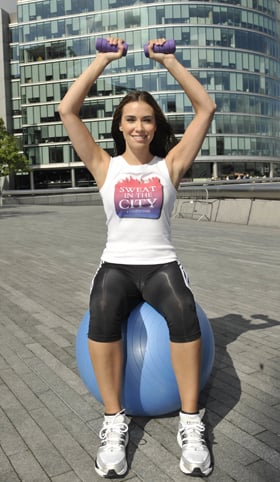 Former Liberty X singer, Jessica Taylor is persuading women from across London to 'work (out) just a little bit more' with the launch of Sweat in the City. From a treadmill on the banks of the Thames, the wife of new England Cricket Captain launched the new scheme this week to encourage us all to be more healthy, when it comes to exercise.
Sweat in the City is offering 3,000 16 – 24 year old women who live in London and currently do little or no exercise, a unique package of free and mentored gym membership. The 12 week scheme which runs from 29th September – 21st December hopes to have women reaching for their trainers.
Gym membership, especially in London, is so expensive, and while we all know that regular exercise isn't just good for our body, it's great for our skin too – it's often hard to find the time and money to go to the gym as often as we should.
Jessica Taylor commented "Exercise can be daunting – especially if you haven't done any for a while - so it's great to have a scheme like Sweat in the City help make it more social and less scary! Whether dancing or going to the gym, I have always been active so I know the benefits - both physically and in terms of self esteem."
Just read more to find out how you can benefit from the scheme.
WSFF Chief Executive, Sue Tibballs adds "Young women aged between16 to 24 are half as active as young men – a statistic Sweat in the City will help us tackle. The scheme provides us with a unique way to speak to women and better understand how to inspire them to become, and stay, active."
Over a hundred London fitness clubs have signed up for the scheme so if you live in the city then just register online and there's sure to be one near you. It's certainly the kick start we all need in pursuit of the body beautiful.
Nothing beats that just-exercised flush, even if at the time you're thinking "I could have just used blusher". Time to work it.