Photo of Justin Timberlake in New Givenchy Play Men Fragrance Adverts Commercials Eau de Toilette Play Intense September 2008
Play Time for Justin Timberlake and Givenchy
Singer-songwriter, producer, actor and all-round crush – Justin Timberlake, has a new gig. The smouldering pin-up is the face of Givenchy's new line of men's fragrances – Play.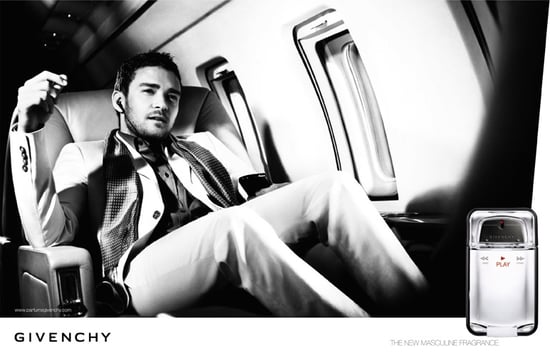 The Play range, which includes eau de toilette in the signature scent, and a more heady, musky version, entitled Play Intense, launches on 1st September. Justin is starring in a series of black and white adverts, photographed by Tom Monro, which aim to capture the elegance and hedonism of the scent.
Cue Mr Timberlake looking suave, as he lounges on the leather seats of a private jet, or working his special brand of glamour, in the recording studios.
I haven't smelt the scent itself yet, but it's been created by Givenchy's expert 'noses' and mixes top notes of zesty mandarin and bergamot, with a more subtle patchouli, coffee wood and black pepper middle and base.
The iconic bottle, designed by Serge Mansau, is super modern, with an ipod feel. The 'play' and 'rewind' buttons work on the theme of high-tech James Bond-style sophistication. Very va va voom.