Photo of Kate Moss and Hairdresser: Get Her Hair Style Look on the Cheap with New James Brown Duo Shampoo Conditioner Boots
Get Kate Moss Hair on the Cheap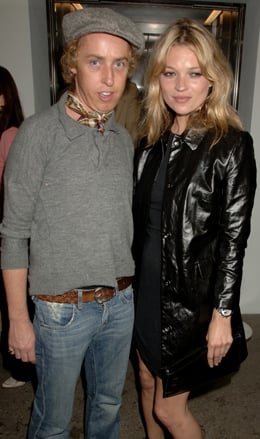 It's hard not to carry on our obsession with Kate Moss, especially as she looks so fresh-faced and pretty on the cover of Vogue this month. Now you can emulate the supermodel's trademark blonde locks for the bargain price of just £10. Kate's hairdresser and all-round bezzy mate, James Brown, is launching a new shampoo and conditioner duo at Boots, this week.
As well as being Kate's mane man, James is also the coiffeur to a whole host of stars and has over twenty years experience on shoots. James did Kate's hair on the legendary 1992 Vogue cover, shot by Corinne Day, and at 22 was the youngest ever hairdresser to earn such a career distinction. While it'd be practically impossible (and expensive) to secure a cut and colour with the man himself, his James Brown London line is cheap as chips.
For why Kate Moss loves it, just read more.
The shampoo and conditioner duo is especially good if, like Kate, you have that typically British fine straight hair that's not overly thick. It adds volume and shine, as well making blonde hair look even brighter. I wouldn't recommend it for dry or very thick hair though. I'm used to a super-thick conditioner so out of the range only his Richly Moisturising Conditioner, (£5.99), works for my hair. Having said that, less thick-haired friends have waxed lyrical about the shampoo and conditioner duo, and if it's good enough for Kate...