Photo of Keira Knightley Wins Best Pout in Poll Beating Angelina Jolie and Kylie. Worst Pout is Leslie Ash and Amy Winehouse
Keira Knightley Has Best Pout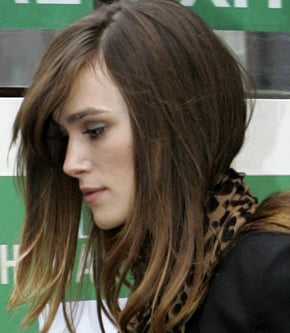 British actress Keira Knightley has often been criticised for her pout; like Victoria Beckham it seems we don't like stars who don't smile. Now however, in a recent poll, Keira's lips have been voted the perfect pout.
In the poll of 3,000 women by beauty brand Blistex, Keira beat Angelina Jolie and Kylie to the accolade, while top of the worst pouts was, unsurprisingly, Leslie Ash with her famous 'trout pout'. Also amongst the 'pouts are out' brigade were Amy Winehouse and Jodie Marsh.
Keira has previously said that her pout does cause her some trouble. Apparently the director of Pride and Prejudice, Joe Wright, actually banned her from pouting on screen.
The twenty-three year old star, who has denied collagen injections to make her lips look bigger, claims she can't help pouting when she's concentrating. Just read more
"I honestly don't do it to be sexy" Keira has told Hello magazine, "I do it when I'm concentrating and I sort of push my lips out. I always think it makes me look kind of constipated."
I know a lot of people really despise Keira, and find her unsexy, but personally I think she is beautiful and as one of our most famous British actresses, we should be proud of her achievements. (Although possibly winning 'best pout' isn't the most endearing of achievements).
Can't wait to see her in The Duchess, after reading Pop UK's interview!