Photo of Kylie Minogue Latest Hair and Makeup Look. Smoky Eyes and Dark Roots. Love or Hate Her Beauty Style?
Love It or Hate It? Kylie's Smoky Eyes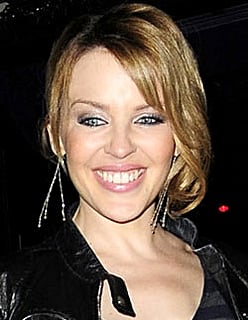 A sultry Kylie Minogue was sharing her style secrets at William Baker's B Boy Underwear launch in London last night. Kylie opted for a rocker-chick look of smoky eyes, silver earrings and a black leather jacket. I love her eye makeup which is dramatic without being too bold, and the shimmery grey shade really picks up the green colour of her eyes.
Kylie's complexion positively glowed and it was enhanced by pale pink glossy lips. Messy hair is always very London, but I'm not sure about her pulled back pony or dark roots here. How do you feel about this look on Ms. Minouge?