Photo of Lindsay Lohan Says I Love You to Samantha Ronson with Matching Star and Heart Tattoos. Cover of US Marie Claire.
Lindsay Says I Love You With a Tattoo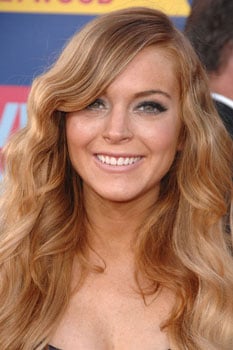 While Lindsay Lohan went for a classically stunning red carpet look at the MTV Video Music Awards this weekend, it's her wild child side and willingness to experiment with beauty looks that I always find more interesting.
Even though Lindsay has remained coy about the exact nature of her relationship with DJ Samantha Ronson, she has revealed that Sam's indie girl tattoos inspired her to get a matching one done. The matching tattoos could well be a rock n roll beauty symbol of the girls' love, but either way it's somewhat surprising that Lindsay and Sam chose to go for quite common shapes.
"Samantha has a bunch of stars, so I got that," Lindsay tells US Marie Claire in their October issue. Then, pointing to a little heart, she says, "She (Samantha) got this. I'm really happy, she's a great person. And she's a great influence on people around her."
While most of you are torn about whether tattoos look tacky or not, as a beauty trend they're becoming almost ubiquitous as stars like Angelina Jolie, Nicole Richie and Fearne Cotton all go under the needle. I'm not sure how I feel about matching tattoos for anyone though, but if any girl could pull it off, I'm sure Lindsay will do it with style.
My girl Pop US has all the pics from her shoot.
Source